Hooray for good news on campus!
There are so many amazing things happening at Sentinel lately;we thought there should be a whole article dedicated to them, from our local clubs and committees to classes like band and orchestra.
Here is an extension to the good news corner, already featured on the scoop website.
I have spoken to many people in many different sports and activities around sentinel
Hosa!
I talked to Lydia, a Sentinel Senior who recently went to the Hosa competition. "Hosa was last Tuesday and Wednesday. I competed in the pharmacology and biomedical lab science event and I got third in pharmacology and second in biomedical lab science. It Was really fun. We got to participate in a couple of answers [from] a hosa team forensic science event, so we got to go to the pretend crime scene and try to figure out what happened. How they died- what will cause her death was." She also participated in Mechanical Advancement. "That one entailed me putting on PPE and then I did blood typing. The best thing about it was it was just- you know- getting to know the members better and meeting people from other schools because these are going to be the professionals that we're working with every day when we actually get the medical field and start working as a team to help with the community. So I was just really really excited to be a part of that and it was a really enjoyable experience with some really interesting speakers and activities like [we] got to go to the cadaver lab which was a lot of fun. But yeah we had a really great time and I encourage anyone to join Hosa who is interested in it."
Robotics!
The Sentinel robotics team placed third in their tournament! This took place in Boise ID and here are some words from Elizebeth about how the tournament went. "We did really well, (ranked 6th personally and 4th overall) despite some mechanical difficulties. We won an overall award for our business plan. […] One of our WONDERFUL mentors, Alan, won the "Woody Flowers" award- this [just means]he's a wonderful mentor and we couldn't do it without him 🙂 a couple of our team members (Quynh and Tim) were semi-finalists for Dean's List, which is a major award for individual students who are crucial to our team." Thank you to Elizabeth for sharing so much about the tournament!
Art Club!
Art Club is an amazing part of sentinel that only a few people know about, Clara is the current president of the Art Club. They "are fundraising money to get the funds to do a school beautification project like a mural or something fun like that. Art club is great because people of all different backgrounds come together to create something beautiful!"
Orchestra!
Our local orchestra here at sentinel just had a concert that placed at Hellgate HIghschool. We spoke to Lydia to see how it went.
"We got there and then we were getting ready to warm up and they're run through a day off so the plan was that we were going to have the the band room like for 30 minutes or so before performance we ended up being shoved in the back room of the hellgate band room there's room for like- I don't know we try to fit the tall section for cello- and that was a tight squeeze. Then we had to fit the entire orchestra in the back room and that was a disaster, But we managed to get everybody mostly tune [and were getting ready to] preform. Then someone pulled the Building fire alarm and we had to stand […]outside and then we wait there. When we finally get back […]on stage and it goes pretty well, [with] pretty short songs and no major screw ups.. tell you when I came in a barley on like the only song where there is an option for us to come in a bar early and for everybody recover did really well even though for Stan kind of screwed the pooch I don't think so yeah I think I'm right I am always right but anyway messed up and everybody recovered and then play not play rehearsal for that good
Key club!
Here is what mr fischer has to say about this years key club and all the amazing things they have been doing, " we have a number of dedicated students who have donated a tremendous number of hours to help out at the activities around missoula and on campus, including working at the humane society with all the animals, recycling around the school, many neighborhood cleanups, a very successful food drive around thanksgiving, two very successful blood drives this school year and many more activities!" Not only do they donate their time, they also make many charitable donations to the organizations in the Missoula community.
Sports!
Girls lacrosse
Here is a couple words from a Sentinel Senior who has been playing lacrosse all four years of highschool and many more years before that, she has graciously spoken to me about her experience in lacrosse
"Well I guess to start I'd like to say that lacrosse is one of the most bada** sports I know of, no bias. I've been playing since I was 9, since the very first girls youth team here in Missoula. Then to bring it with me to high school, starting Spartan lacrosse's first team my freshman year, I'd say that lacrosse has made a pretty miraculous impact on my life. I've met so many dope people, learned so many amazing things about myself and the world as whole, no exaggeration. Lacrosse is all about sportsmanship, and pouring your soul into what truly inspires you. No amount of wins could add up to the amount of wisdom and joy this team in specific has brought me. Tonight is our senior night, and it brings me so many feelings of love and sadness, but also so so much pride to know that I have built something so strong in me with the help of many people through the years, and now I get to pass on what I know and feel so passionately about to girls who share the same charisma for this sport as I do. I adore them all very much, like my own little children, they look to me for guidance and I get to learn from them as well! I know we're going to have a great season, the team has progressively become a very strong family, which is what makes the lacrosse community so special. We're all just one big bada** family of warriors."
Tennis
Here is Grace Hurteau, another sentinel Senior.Grace is a soccer player and a tennis player.
Tennis is going great. We have two solid teams of Spartans with abilities ranging from beginner to veteran. We have had two meets thus far, as a team we have played Bozeman, Gallentin, Belgrade, Flathead, Glacier and Butte.This coming Thursday we play Big Sky at homeI am super excited for the rest of the season! Personally my favorite part of tennis is the snack table and getting to see all ability levels of matches!
Here is another tennis player who is a junior this year at sentinel, his name is Martin Henry "boys beet butte and belgrade" and mentioned "I'm so excited for tennis, i love this tennis season so much"
Softball
Here are some words from a Sentinel senior named Raquel Reed who has been playing softball her whole highschool career,
"This season we're working really hard as a team. We have fun with each other on and off the field. We try to keep the energy up. This year I'm really excited to be around all of my teammates for senior year and how much closer we are as a team."
We love to hear this great news from the team and we wish them good luck with all their upcoming games!
About the Contributor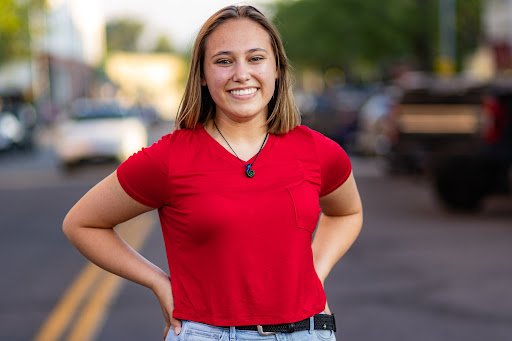 Sydney Paxinos, Public Relations
Hello, everyone! My name is Sydney and I am this years 2021-2022 Public Relations Manager!

I am a senior this year and this will be my fourth year...