The Deeper Meaning Behind Being a Teacher
I have been a student for twelve years now, and it's because of this that I'm confident in saying that teachers play much deeper roles than just teaching. I have been very fortunate in life to have the teachers that I've had. Through some of my most difficult times in life, they have been there for me in ways that have meant the world to me. I realized very early on that teachers are so much more than that. They have continuously provided me with more than just knowledge of curriculum. They have provided me with advice, reliability, consistent support, and a person I can always turn to in life. When teachers say they want us to succeed, they don't just mean in school, but in every aspect of our lives.
Many students don't realize that teachers aren't just here to teach us in school, but in life as well. In order to show others this, I asked a few of my favorite teachers a few questions.
"If you can have your student leave learning one lesson from your class, what would it be?"
Mr.Bowen, my current P.E. teacher, replied, " Resilience. I want students to know that life isn't always great, but those times don't last forever. And I want them to have the skills to navigate those times that aren't so great, so they can get back to a good spot where they are enjoying themselves and those around them again".
This answer hit home for me. Mr.Bowen is unique in the best of ways when it comes to teachers. He knows how to navigate being a teacher while also having fun and creating a class that allows kids to flourish. I've never once felt judged for a lack of athletic skill or for just being who I am.
I know I am not alone with this sentiment.
Mr.Bowen makes it clear that he cares about his students. He creates an environment that allows kids to escape the chaos of life for a bit. I find that his class alone is enough to fix a bad day. He repeatedly shows kindness to everyone who crosses his path (student or not); he is a teacher who would not hesitate to help someone who asked for his support. He has established a relationship of communication, respect, and positivity with his students that is unlike the rest.
Mr.Bowen accepts all of his students for who they are, quirks and all. He has provided me an escape from reality with his class and with his genuine kindness. I've watched first hand as shy students slowly opened up due to his class. This alone is impressive, and should say a lot about his character and teaching ability. Despite officially teaching P.E, I believe that he truly teaches kids positivity, kindness, acceptance of differences, and the crucial fact that their lives matter. Always.
Honestly, his answer should have said it all. He, along with the other two teachers who were asked the same thing, didn't answer with a piece of curriculum from their class, but rather a lesson for life. That alone supports my point.
"What do you enjoy most about teaching?"
I personally loved Mr.Pereira's answer: "Having the opportunity to help teenagers navigate all the insanity that is 'being a teenager.' It's tremendously rewarding to spend 36 weeks getting to know 60-80 freshmen every year, then watching (and maybe helping?) them grow for another 3 years, both emotionally and intellectually, before they embark on their journey into the real world.".
I can personally attest to the fact that Mr.Pereira never failed to make his students feel like they had someone standing in their corner. He successfully walked a fine line of showing support without pushing or prying too much. He truly cares about all of his students, and takes notice when something seems off or wrong. Even when it comes to a student not struggling with life, but the class itself, Mr.Pereira has proven to take time to do everything in his power to help those who want to succeed.
He never judges those who struggle, and that itself, goes a long way. I have never once felt like I couldn't go to him if I needed help. There is an unspoken trust he establishes naturally with students, just by being him. He leads by example, always treating people with respect, and living by the golden rule of doing "unto others as you would have them do unto you". Mr. Pereira has continued to help me through life, despite no longer having me in his class. He creates a positive environment and relationship for all students. I can say from personal experience that he has helped me grow into myself, and I have seen him consistently do the same for my peers. It's obvious that Mr.Pereira loves what he does and every facet of teaching. He has personally acted as a much needed rock in my life, without even noticing it. He is a truly kind teacher, who goes above and beyond in every aspect of teaching.
Ms.Bathje, my former English teacher, and current publications teacher also answered the same question beautifully. When asked what she enjoys most, she responded, "Working with the students. Always. Everything else can fall by the wayside, but when interaction with the students isn't there, the job of being a teacher is absolutely pointless. If a teacher isn't here ready to have fun with the kids every day and make it work no matter what, then what are they even doing?".
The part of her answer that stands out the most to me is, "make it work no matter what". Ms. Bathje is an extraordinary teacher who does just that: makes it work. She never fails to make my day better, and has always provided me with support without me asking. She has a style of teaching that just works. She makes her classes fun and relaxed, while also establishing consistent productivity.
I personally am not a fan of English but she was enough to make it my favorite class of sophomore year…which is fitting because she told me, "I first learned to really love English class when I myself was a sophomore in high school. I decided I wanted to be a teacher that year because of Mrs. Wise (shout out!), and I've never changed my mind about it since". I wish I could meet Ms.Wise in person and tell her thank you, because she is yet again, another amazing teacher that has made a difference for someone, even till this day.
Ms.Bathje was truly meant to be a teacher. She interacts with students in a way that shows mutual respect, and allows for trust to grow. She knows how to show support and ask what's going on, without digging too much, which is huge. It's never an interrogation, but rather genuine concern and offered support. I have yet to hear any of my peers talk poorly about Ms.Bathje, and that doesn't surprise me. What is there to dislike? She is a strong role model who accepts herself and others for who they are.
Personally I find it hard not to look up to her for the amazing teacher she is. She shows a deep compassion for her students that truly does make a difference. She shows those who are unaccepted that they are perfect as are, those who are alone that they are cared for, and those who struggle that they are strong; but most importantly, she shows everyone that they matter in life and that they are more than enough. Ms.Bathje has given me many lessons to use for life, and hope for the future. She has repeatedly, to this day, acted as a light to help guid me out of the darker times of my life, whether she realizes that or not.
All three of these individuals have proven themselves to be so much more than just high school teachers. They demonstrate kindness to those around them and show students how to become good people through example. They care much more about their students than most people realize.
I decided I'd save the most telling question for last…
"What is your ultimate goal as a teacher?"
Mr.Bowen responded with, "My ultimate goal is to help students to become well rounded, better people. I hope they grow to be adults that are resilient, determined, and goal oriented in their own lives, as well as caring, compassionate, and thoughtful of those around them.".
Ms. Bathje said, "I want my students to learn to be decent human beings who can think for themselves. If I was teaching English, Math, History, or anything else…that should be the ultimate goal. Period".
Lastly, Mr. Pereira answered with, "My ultimate goal as a teacher is to help students become comfortable with who they are, and to always strive to be the best that they can be at just being themselves".
These answers only stand to prove my point: teachers strive for so much more than just drilling academics into us. Not a single answer provided here was about school; everything was about the students. There are many teachers who should follow suit with this pattern; sometimes as students it's just hard to know who you can go to and who you can trust in life.
As a student myself, I can say that when there is no one else to turn to, teachers will be there for us.
About the Contributor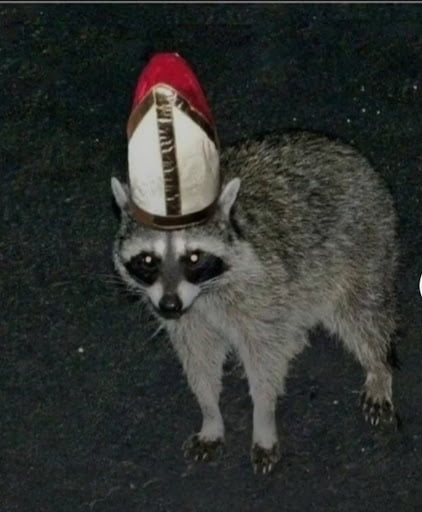 Ellyana Tripp, Podcast
             "Whenever I'm about to do something I think 'would an idiot do that?' And if they would, I do not do that thing" - Dwight (The...