The 64th Grammys Award Show
The 64th Grammys Award Show was Sunday, April 3, and it was an awards show to remember. There were fabulous performances and some questionable outfits, (Justin Bieber) but overall a phenomenal awards ceremony. From a non-BTS stan or 'Army' standpoint, they had an amazing performance at the Grammys. The Foo Fighters also won a couple of Grammys including 'Best Rock Song' and 'Best Rock Album' which was seen as a great accomplishment to their last drummer, Taylor Hawkins, who recently passed away. There were many phenomenal performances, and it was one of the best Grammys award ceremonies in contrast to recent years.
The most anticipated award in the awards show was the 'Best New Artist' award which had many amazing nominations, but it was obvious that the award could only go to Olivia Rodrigo. It was a well deserved award along with her other two Grammys in tribute to her Sour album.
The Grammys was delayed this year due to the Omnicron COVID-19 variant, so you'd think that artists had enough time to pull together immaculate outfits for the occasion, but that was not the case for some of the nominees. Justin Bieber needs to present an apology with tears for the outfit that he put together for the very high profile award. Bieber usually has very creative looks for events like the Grammys, but this outfit was a little too 'creative' and he wore a hot pink beanie that just ruined everything else he had going on in the fashion department. The Kid LAROI also showed up in a very surprising fashion with recently dyed pink hair. Many people are starting to make this a trend. There is rumor that they both wore pink for their song "Stay", but there is no clear reason. Later that night, LAROI made a statement on Instagram expressing his regret for dying his hair pink. Fans are expecting the same apology for Bieber's hot pink beanie. Nominees like Lil Naz X, on a more positive note, looked amazing, but he always looks great at award shows. Another notable outfit was 'Best R&B Album' winner Jazmine Sullivan and Bruno Mars, they both looked amazing and held up the standard of fashion in the prestigious awards ceremony.
One of the most controversial winners of the 'Song of the Year' award was the song "Leave the Door Open" by Silk Sonic (Brandon Anderson, Christopher Brody Brown, Dernst Emile II and Bruno Mars). There must be credit where credit is due, it was a very popular song, but people found it unworthy of the exclusive award deeming it the best of the year. It is a great song though, so people are coming to terms with the outcome of the award very quickly.
Each year the Grammys get increasingly better as new and old talent release award worthy hit singles or albums. And every year the Grammys is called the 'Scammys' by confused fans that felt an award was 'scammed' from artists. Arguably, the best part of the Grammys is the live performances and the fashion, either good or bad. This award show wasn't as strikingly exciting as the Oscars, but still a great awards ceremony that recognized great and late talent.
About the Contributor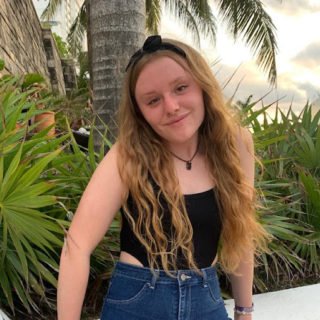 Delaney Crum, Reporter
My name is Delaney Crum, and this is my first year being a staff member of the Spartan Scoop.  When I asked my mom about how I should introduce myself...