Interview With Coach LaPorte: Rocky Mountain Classic Wrestling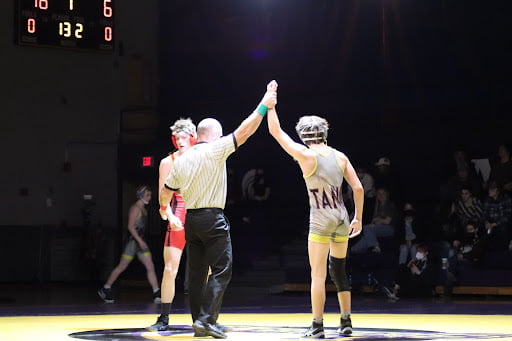 One of the many winter sports happening at Sentinel right now is wrestling. On Friday the 14th and Saturday the 15th, Sentinel hosted the annual Rocky Mountain Classic Wrestling Tournament. In an interview with Coach LaPorte, he gave details about the season and how Sentinel did that weekend.
When asked about this season LaPorte said, "We're back to normal regarding COVID," which is a great relief considering last year's season — which was "anything but normal."
LaPorte explained that their team goals for the year are "just to get better." This goal makes sense considering they "have such a young team with only one senior and two juniors and the rest are sophomores and freshmen."
He remarked that the Rocky Mountain Classic "is the toughest tournament that [Sentinel is] in" and having such a young team means that the probability of placing was pretty low.  Thankfully, the team pulled through at the tournament with "three placers: Trevor Tucker placed fourth, Chris Musick placed sixth, and then Colton Follett ended up taking eighth." This is a big win for Sentinel regarding the young team and having a few varsity wrestlers step out for the tournament. 
When asked about future tournaments, and how they could possibly go, Coach LaPorte said that the current condition of the pandemic "gives [him] a little of anxiety because [they] could get shut down at any point." The upcoming tournaments are almost impossible to predict, "It would be awful for the kids who have put in all this time and effort"
"It's not a very fun time right now," LaPorte said in regards to this season being shut down because of the pandemic. Hoping the season does not get shut down, our Sentinel Wrestling team should have a great season ahead of them with a great Varsity and Junior Varsity team.