GHOSTLY BOOKS
so many books that are hard to get my hands on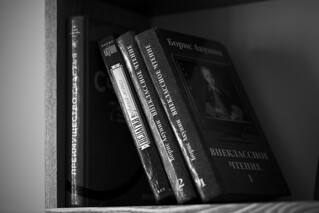 Throughout the world, some people collect things for many different reasons. Sometimes they collect them for comfort and others do it because they enjoy it. Each and every reason is different and unique. A while ago I started to collect manga books, whether it's from anime I watched as a kid, or new series I found and liked. Ever since I was about 12 I started collecting anime from many places. Anytime I could get my hands on a book I wanted, it made me smile with joy. Over the years though I started to find it hard to get my hands on some of my favorite series. Slowly I started to call them ghost books. Many of these ghost books, either cost high amounts of money or were just nearly impossible to find.
An anime I've always loved since I was small was an anime called "Vampire Hunter D". It is considered one of my 'comfort' anime. The storyline and the memories it brought me made me love it even more. I never knew it had a series till I got a public library card. Then I discovered that it was based on a chapter book series. This series has well over 40 books in it, from the main ones to small side stories. Another series that has many different parts, and books would have to be "Alice in the country of…" the last part of the name changes depending on which part you are in. This series is an extensive series that I know will take me a long time to get my hands on. There are so many that I wish to collect and add to my ever-growing collection.
The first book I ever got was from one of my favorite series by the name of "Inuyasha". I got the book when I was very young, then when I was older I got "Fruits basket". These two books started my collection and made me strive to collect all the series I could. Over the years, I've had some help with collecting my books, from gift cards to having those gifted to me. I've always enjoyed what I've done with the money invested in these books, and I wouldn't change a thing. As the years passed my hope to collect some books faded, but I think it mostly has to do with the fact they are hard to come by, and may I never have the funds to get them. The books I can get do make me happy, just recently I got my hands on the first 2 of the chapter books of the "Vampire Hunter D" series.
"The Vampire Hunter D series I knew would be one of the harder ones to get my hands on, especially the Manga books. I still don't understand why some of the books I want are harder to find than others, but it probably has to do with the fact that they may not be well-known. Sometimes that does seem to be a problem, or they aren't very popular, and that contributes to them being harder to find and collect. Either way, finding something you love is what matters, and not allowing others to discourage you because they don't like it.