Shop Smarter, Not Harder – Christmas Edition
The holidays are right around the corner and it's the perfect time for holiday gift shopping.  This is a list of five stocking stuffers that I personally want to see in my stocking. Hopefully, this gives inspiration to anyone searching for a simple gift.  The majority of the items can also be bought online, which is helpful because of the active pandemic.  The feeling of having to rush to get gifts is stressful — I know better than most — so here is my list with plenty of time to spare before the holidays.  I also encourage you to shop locally or from small businesses if you can. That being said, I tried to find locations in the Missoula area that sell these products.  Without further ado, this is my 2021 holiday stocking stuffer list.
1. Groovy Daisies Glass Cup– $16 (Etsy: MissMartis01)
I am obsessed with coffee and the aesthetic of coffee and I am not ashamed to admit it.  I wanted a nice day-to-day coffee mug that might make me want to buy less coffee and save money.  I love the "groovy" vibe that the cup serves and when I first saw it scrolling across Etsy, I knew that I had to have it.  Best of all, the cup is produced by a small business, so it makes me feel like I am giving back.  This item is most likely one of the most expensive products that I listed, but it is also absolutely stunning so I had to share.
2. 100 Movie Bucket List– $15 (Uncommon Goods and Amazon)
I love watching classic movies.  If you're my mom or dad, keep scrolling, because this is your present.  This gift is equivalent if not better than the coupon book that we made as children.  It tells the recipient, "I will watch these movies with you," but in a fun holiday fashion.  I would recommend giving this to your significant other, family members, or friends that would want to watch these types of movies.  Then, after the person (or group) is done watching the movie, completely scratch it off the section until there are no more classic films to watch.  Whoever came up with this idea is a genius and the majority of the movies listed can be found on a variety of streaming sites.  Truly the perfect universal gift.
3. Smiley Slippers– $14-$20 (Amazon and Etsy)
Slippers aren't everyone's thing, I understand, but if slippers are your thing, these "smiley slippers" are really fun and appear to mimic sherpa texture.  They come in a variety of colors, but this gift is universal and can be given to almost anyone who wears slippers.  If you want a more luxury pair of slippers, I would definitely recommend Ugg Slippers.  They're the best and will always be the best in my heart, but I'm willing to branch out this one time for smiley slippers.
4. Books– Pricing Varies (Amazon, Barnes and Noble, The Book Exchange, Target, Walmart, etc.)
I find it absurd that people don't read for fun in 2021.  There are a plethora of great books that can cater to all of your reading needs.  I understand that giving someone a book for the holidays is basically giving an apple on Halloween, but if you're past your trick-or-treating era, I suggest picking up a book for yourself and or someone else over the holidays.  If you do need some suggestions though, look for book reviews and recommendations on this website. New recommendations for the holiday season will be coming soon!
5. Candles or Wax Melts– Pricing Varies (TJ Maxx, Walmart, Target, Bath and Body Works, etc.)
A lot of people do not get excited by candles or wax melts, but I can't be the only one that really loves getting a candle, right?  My mom does not allow me to have candles, something about smoke on the walls, so when I get gifted candles, I finally get a reason to use them.  If anyone else has the problem of a crazy mom that fears smokey walls and has a Scentsy pot, get them nice smelling wax melts.  They're super simple and inexpensive gifts that many people enjoy.  This is the only kind of gift that I wouldn't recommend purchasing online because the name of the product and the smell are usually completely different — I've repeatedly made this mistake.
The prices of traditional holiday items like Christmas trees are steadily on the rise in regards to price, so this holiday season, everyone should shop smarter and not harder.  I will have more content in regards to actual gifts to give this holiday season, but until then, start looking now and if you can, and please shop locally. Happy shopping!
About the Contributor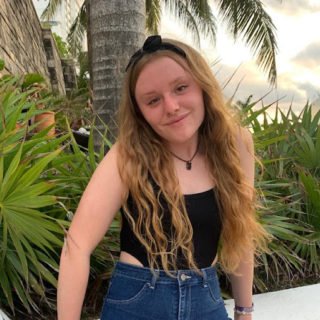 Delaney Crum, Reporter
My name is Delaney Crum, and this is my first year being a staff member of the Spartan Scoop.  When I asked my mom about how I should introduce myself...