Overrated and Underrated Halloween Costumes
Halloween is just around the corner and in high school, it is crucial to have a creative and fun costume.  There are many routes that can be taken with celebrating this occasion, but there is one path that should not be an option. And that path is not dressing up. Not dressing up for Halloween is absurd and ludicrous, but if you're having a difficult time coming up with the perfect costume look no further.  With extensive hours of research, this article will list costumes that are deemed acceptable and unacceptable in my opinion.  A quick disclaimer, these are just opinions, and all of the costumes deemed "overrated" can be executed very well. Here are five costumes I don't want to see on Halloween and five costumes I would love to see on Halloween.
What I don't want to see:
1. Athletes
Being an athlete in the past years for Halloween basically consists of a jersey and Converse. It's really lazy.  Some people get slightly creative with it and do some kind of facial markings, but it is too simple. This costume is acceptable for elementary students and the costume idea should stay within the younger school system, as it does not belong in high school or college Halloween settings. I'd be lying if I said I wasn't a victim of this lazy idea, so I have the right to judge it. Don't make the same mistake I did. Take inspiration from this article instead and make your costume memorable.
2. Decades Fashion Between the 50s and 80s
Almost every high school during the week of homecoming does the decades between the 50s and the 80s. It has been overdone and there is no one answer. There is a constant debate if the fashion is actually within that era. A lot of the fashion that can be seen in the 80s and other decades, but especially the 80s, can be seen day-to-day in 2021.  It will appear you're not even dressed up.  Decades would arguably be a very good costume, but it's too simple and the high schools ran with it for homecoming dress-up week.  A similar alternative to decades of fashion would be dressing up as prominent figures in that decade. There are many more alternatives to decades of fashion, but the other five costumes listed are very good ideas that haven't been overdone yet.
3. Frat Boys
If you were a frat boy last year for Halloween, you most definitely noticed that you were hardly the only one.  At Sentinel High School there was a frat boy costume in every hall.  Everyone thought that they were being super creative, but little did they know everyone had gotten the same idea from Pinterest that morning. The reason that everyone was doing the frat boy(s) costume was because it was really simple and could be executed by entering your dad's closet, but Halloween shouldn't be a simple occasion. Halloween costumes should consist of heavy and meticulous planning so you don't run into that same problem year after year.  Some of the ideas below are simple too, but not heavily done.
4. Culturally Offensive Costumes
It is really unfortunate that this has to be said, but it is unacceptable to recreate cultural attire in the pursuit of a Halloween costume.  Most commonly done is Native American attire. It's very inappropriate and inaccurate to their culture, so I better not see that this year. I would rather see every other costume on this list, including the next idea before I see costumes unintentionally or intentionally mocking cultures.
5. Not Dressing Up
Not dressing up on Halloween is lazy. There are only a handful of valid reasons why someone shouldn't dress up for Halloween. Not having motivation or not having ideas for a costume are not valid reasons.  There are multiple platforms that offer really good ideas that involve DIY (do it yourself) costumes that can be assembled quickly. Even though the ideas listed above are overrated, they're still better options than opting out of Halloween festivities. This costume list is inspired by two reasons. The first one is all of the people that are desperate for inspiration, and the second is to inspire people who don't wear costumes. No one should neglect Halloween festivities if they can help it.
Now I will indulge in the list we've all been waiting for, and that is the Halloween costumes I want to see this 2021 Halloween.  If properly done, these are really good costume ideas that will make people do a double take. After extensive hours on Pinterest and random Google links, these are some of the ideas that I found to be the most overseen and creative costumes.
1. Fairies/Fairy
If you're a hipster kind of person, a fairy should definitely be a costume that you consider.  With some Euphoria-inspired makeup, mystical fairy wings, and a bodycon dress, shook the house, Houston I am deceased, perfection.  From my understandings a lot of people are going to be fairies, but the beauty of it is no one will look the same because it can be really eclectic. I also love that it takes the idea of an elementary school costume and puts a spin on it to appeal to college students and high school students. The most difficult part of this outfit is obtaining prestigious makeup skills.
2. Holes Characters
If you went through your elementary school without reading the book Holes by Louis Sachar, call your school because they owe you a sincere apology. If you haven't read the book, I would recommend not doing this idea because it wouldn't make sense. To execute this look, purchase a prison jumpsuit and tie the sleeves around your waist or orange sweats.  Then, obtain a white shirt of any kind and an empty milk plastic milk container. With the milk container, write one of the names of a character, for example, Zero, my personal favorite character.  The costume can also be a group costume. Being a Holes character is a really easy costume that I would recommend to people that have read the book.  If you've watched the movie, I still wouldn't recommend doing it because it'll make you look like a fraud, in my opinion.
3. Clue Characters
I would start this section by saying do not do this costume by yourself. If you do this costume by yourself, no one will know who you are and it would just be annoying to have to explain consistently. This is a six-person costume and assembling the costume is fairly easy.  All the characters are named after a color, so just wear the color that your character resonates with and it is a simple costume.  The only character that this doesn't work for is Ms. White, as she is a maid.  The most difficult aspect of this costume is finding six friends, but if you have six friends, please do this idea.
4. Ghosts
Okay, hear me out. A ghost is very overrated and simple, but it has come back into focus in 2021 and I am living for the idea.  I won't explain how to dress like a ghost because it is obvious but wearing the sheet shorter, so it doesn't go fully to the ground. It would look fabulous with Converse.
5. Celebrity Era(s)
This is the most difficult costume on the list, but it can be taken in so many different directions.  You can do different eras of sports players if they have changed teams consistently (this would be the only time where being an athlete is creative), Britney Spears' eras, Miley Cyrus' eras, YouTubers' era, or anyone who has gone through drastic changes over the years. This is where you can get really creative, so this is not a last-minute costume idea I would recommend.
Halloween is approaching quickly and a lot of people are scrambling for last-minute inspiration when Pinterest has just been shooting blanks in the creativity department.  I hope that there is still time for people to execute some of my group and single costumes. If I listed the costume that you've been planning on wearing on Halloween as "overrated", don't take it too literally and execute it to the best of your abilities. I would like to formally wish everyone luck this Halloween season as well, as the stakes to who will take home the costume crown are very high. Happy trick-or-treating.
About the Contributor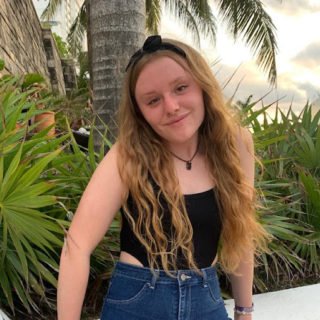 Delaney Crum, Reporter
My name is Delaney Crum, and this is my first year being a staff member of the Spartan Scoop.  When I asked my mom about how I should introduce myself...