Signing Off For The Season – Lady Spartan Soccer
The season for the Varsity Lady Spartans Soccer has ended for the '21-'22 season and yet again, they have impressed Spartan fans with a phenomenal 9-3-2 record.  The team is coached by Dan Lochridge, better known to Spanish-speaking students as Profe Lochridge.  This year, there were five seniors and I was fortunate enough to catch up with one of them to better understand how the season went for the team.  I spoke to #13, Grace Hurteau, and asked her questions to better understand the soccer season and how the season went in comparison to previous years.
Grace Hurteau explained that compared to previous years, this team was overall, very successful.  Hurteau also commented that her team is constructed of awesome women that are considered enjoyable on AND off the field.  The camaraderie within this winning team is palpable. With this insight, we can understand why the team was such a success, but what "rituals" are behind this success?
Every team has a unique and consistent movement, action, chant, etc., so what do the Lady Spartans do to begin every game?  We all can agree that they were successful this season, so they must have some special field-taking rituals.  From the interview with Hurteau, she explained they dance away their worries about the game and all the stress the follows. Then take a collective deep breath before starting the game.  It is quite a simple ritual and an oh-so-subtle reminder to breathe.  She also mentioned that the team has a playlist of game day jams that gives them something to dance to.
Even though the women work together as a team, I wondered about the future leaders.  Hurteau felt that no one group of people can be targeted.  Each person brought different qualities that contributed to the positive group dynamic no matter their age or standing class.  It is a clique saying, and I have said it before, but teamwork certainly does make the dream work and no one-grade class can be held accountable for the team's success.
The senior Varsity Lady Spartans are signing out for their school year career, but they have a special way of signing out.  They have a shed where their names and class are written to always be remembered for years and years to come.  This year, five seniors signed out including Grace Hurteau who graciously sat down for this interview.  At the end of the season, not only are the seniors signing out, but they're also finishing their last years with an impressive record, being third in the Western Conference, and the higher top ten in the overall state standing for the 21′-22′ season.  Even though the seniors are graduating, there is still a promising group dynamic that will lead to years of success in the seasons to come.
About the Contributor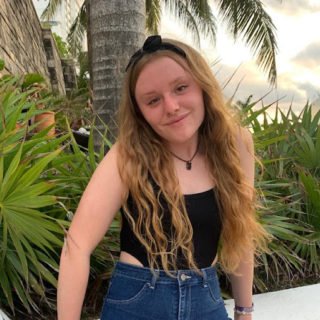 Delaney Crum, Reporter
My name is Delaney Crum, and this is my first year being a staff member of the Spartan Scoop.  When I asked my mom about how I should introduce myself...