How To Smell Like "That Girl"
Perfume is a great feature to the perfect outfit. There are millions of scents that are deemed to be the best, but are they the best? I've had a lot of perfumes and I want to share the ones that are guaranteed to make everyone smell and feel like 'that girl'. The perfumes are ranging in prices from high to low costing perfumes. Instead of blindly buying perfumes, learn from my mistakes and take my eclectic preferences when perfume shopping. This is a list of my top 10 perfumes that will make people ask the question of 'what perfume are you wearing?'.
The price will be displayed via dollar signs to signify the expense of the perfume.
1. SugarPop by Jean Marc Paris $
There is a lot of hate surrounded by 'SugarPop', but the notes of fragrance are a majestic combination for people that enjoy a sweeter smell. Sugarpop lasts all day on my skin and the more potent notes are the champagne, sandalwood, and jasmine. I found my 1.7 ounce bottle at TJ Maxx for $10 and for the price it has a lovely smell. There is a lot of controversy, but if we want to smell rich and sweet this is the fragrance. There is a note of patchouli, which some people are afraid of, but the note of patchouli is very subtle and doesn't overpower the fragrance. The packaging and the bottle is a little boring, compared to the other bottles on the list, but for the price and the smell, it is a great bottle of perfume that I've gotten a lot of compliments on. This is a highly recommended bottle for people that don't want to fully commit to the high prices that come with the perfume industry.
2. Cloud by Ariana Grande $-$$
This is my favorite Ariana perfumes. It is a staple for anyone interested in perfume. It is a very light and subtly sweet perfume that will have people asking 'what perfume you're wearing?', if they don't already know. The more potent notes to the perfume is the soft lavender and the whipped cream scent that is a staple in a lot of Grande's fragrances. The packaging is spectacular, as all of her fragrances packings are, and to find the best deals it is recommended to look at multiple locations. I found my bottle at Ross Dress for Less for about $20 and I have also seen the bottle at TJMaxx for $25. Both stores don't always have the fragrance, so the last option I would recommend is looking at Ulta Beauty. Luckily, all of the stores are right next to each other, so if it isn't at one place it is at another. At Ulta beauty the price ranges from $45-$65 (based off the ounces), so I would strongly recommend waiting for the bottle to show up at Ross or TJMaxx. If there is a doubt about the fragrance, I would recommend this hack. Go into Ulta and smell the perfume and can buy it somewhere else. Cloud is going viral, but it is viral for a good reason. 'That girl' smells like Cloud and anyone can be 'that girl' with Cloud, so invest.
3. Nude Sands by KKW Fragrances $$
Kim Kardashian is known for her gardenia scents, which some people think replicate the scent of an 'old lady', but I find everything about the fragrance amazing. It lasts so long on my skin and the only way to get the scent off is by bathing. Because of recent changes in Kardashian's life, the site is going to be down starting May 1st at midnight. The fragrance line is remodeling the name, so this is the perfect time to get all of the KKW Fragrances with 40% off while supplies last before it is too late. The packaging box and bottle alone is so amazing. The bottle looks deformed and the box packaging is so sleek and matte that it draws attention. The bottle is also available at Ulta Beauty, but last time I checked there were four bottles left at the price of $40, so it is crucial that if interested, sprint to Ulta before the last of her fragrances are gone until the rebranding. Run to the site or run to Ulta Beauty before all of her only brand fragrances are gone.
4. Midnight Fantasy by Britney Spears $
Here on the Spartan Scoop we stand with Britney Spears, so it is only appropriate to include her best fragrances from the Fantasy collection. The most potent notes to the fragrance is the combination of plum, raspberry, and a hint of vanilla to dilute the bitterness of the fragrance. If an even softer scent is interesting, I would not recommend this bottle, but instead Fantasy by Britney Spears for it is a lot softer. The packaging on the whole collection is stunning, but the royal blue is eye-catching. It has amazing packaging, box and bottle, and a lot of fragrance collectors agree it is the best of the whole collection. Luckily, it is very easy to access. Good ole TJMaxx has this fragrance fully stocked at the inexpensive price of $20. This is a very strongly sweet scent, so if musky scents are the desired fragrance, I would not recommend. This is another celebrity fragrance that is classic and I would recommend any of her fragrances, but this one specifically to those not looking to commit to collecting.
5. Escada Candy Love $$
Escada fragrances are some of the best and unique fragrances on the market. The packaging is also spectacular and I even contemplated adding more of their fragrances to my list. If Valentine's Day had a signature scent it would be this bottle. It is subtly sweet (see a pattern here?) and has the enchanting notes of whipped cream and candy apple notes. It quite literally smells like candy. It is what I could imagine the set of Katy Perry's "California Girls" song smelled like. On the box it says it is limited edition and the price points match that fact. As far as my knowledge, there is no place that sells the fragrance in Missoula, so one would have to shop online for the bottle. I've shopped with FragranceNet, which is where I got this bottle, but it is also on Amazon for faster shipping. It also lasts all day on the shift, but it does fade a little at the end of the evening, which some may prefer. I got the fragrance for the bottle alone, yet it was a very good purchase that I never regretted buying.
6. Nude by Rihanna $
I personally love patchouli, but the scent is fairly potent in the fragrance, but patchouli isn't for the sweet scent lovers. The top notes to the fragrance are the patchouli and geranium notes. It is an amazing scent with one of the cutest bottles I've ever seen on the market. The only downside to the fragrance is when I was asked why I smelt "like their dad", which was an interesting thing to say, but it just proves that patchouli is NOT for everyone. Almost nothing about any of Rihanna's fragrances are sweet, so don't get it if Cloud or Candy Love is the desired combination. This is a very mature scent so I cannot stress enough that this fragrance is for my mature audience.
7. Dot by Marc Jacobs $$-$$$
We are now diving into the more expensive part of my collection which is Dot by Marc Jacobs. Marc Jacobs scents are all sweet scents. They are for a younger audience. The packaging is tacky, in my opinion, but the box is a cute dotted box with red and black. I was more attracted to the scent of the fragrance more than the packaging, for a change. The top notes are red berries, dragonfruit, and honeysuckle and it is the perfect combination. It brings me back to my middle school Victoria's Secret body spray mist days, but it is more expensive and lasts longer than 10 seconds on the skin. The fragrance lasts all day on my skin and I have gotten a lot of compliments on the fragrance. I would recommend this to people transitioning from Victoria Secret prays to the real deal that will last all day. A smooth transition into the world of perfume.
8. Sol de Janeiro '40 $
It is about time that they make fragrances for the hair. I am obsessed with all of the Sol de Janeiro hair and body fragrances. I usually put this spray in my hair and continue on by putting a complimenting fragrance. It makes one smell so good and it is not bad for the hair. DO NOT spray regular perfumes into hair! This fragrance is oil based, so it can go in hair unlike the majority of fragrances. This bottle has the top notes of black amber plum and vanilla. The packaging is very underwhelming on the downside, but it is very inexpensive for a lot of the product. The smallest bottle is $20 at Sephora and it comes with a lot of fragrance. There is also an even bigger size for $35 which contains a dumb amount of fragrance that will last a lifetime, nearly.
9. Onika by Nicki Minaj $$
Let's get the obvious out of the way, the packaging. The packaging is her, wow! All of her perfume bottles set my standard for what is considered to be boring packaging because hers was SO GOOD! Each bottle is a different era and album, but Onika stood out to me the most. It is very hard to find because it is limited edition, but it is the cleanest smelling scent. To clarify, it doesn't smell like a cleaning solution, but a neutral scent that doesn't classify as floral or sweet. Onika is in its own category of fragrance. It has notes of fruity scents as well as cedarwood that cancels out the overpowering scents of the fruity notes making it neutral with a touch of flirty scents. I found mine at a fragrance outlet in California, but it can also be found on Amazon for a fair price of around $50. This is one of the more unique fragrances I have smelt because of the idea of not being able to categorize Onika. It is one of the fragrances that anyone can get behind because it is such an enchanting scent.
10. Black Opium by YSL $$$
Black Opium is by far the most expensive perfume that I own, but it smells so good. The vanilla and coffee notes create a rich smell that will draw attention. The packaging is a little underwhelming when comparing it to the price point, but it is a really strong fragrance of vanilla and cedar. The only problem I have with the fragrance is not deeming any occasion worth even a spritz of the perfume. The urge to use it everyday is there because it smells so good, but for now I will stick to smelling it until I get my money up. One can get this fragrance anywhere and the price will be very expensive. To make sure the perfume is the right match go to Ulta Beauty and smell the fragrance because it is too expensive just to blindly buy. Price ranges at Ulta Beauty from 1.0 ounce being $78 to 5.0 ounces starting at $162. If rich had a smell it would be this fragrance, so run don't walk to Ulta to at least understand the sensation described.
It is time to move past the body mists and move into the world of perfumes. Dabbling in the perfume industry is nothing but rewarding, but I suggest doing research and watching out for patchouli (most people don't love the smell). Keep in mind, these are just my personal favorites and I have a very eclectic taste, so take my opinion with a grain of salt. My best advice is to go to Ulta Beauty to start. They have a lot of great fragrances, but best of all, there is the option to smell some fragrances before blindly buying. Take advantage of the opportunity. In 2022 everyone should have their signature scent, so research and find the perfect scent.
About the Writer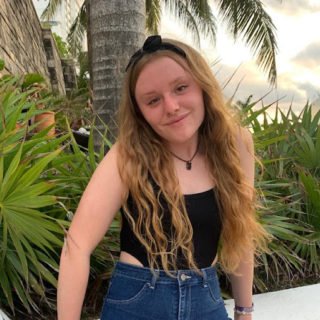 Delaney Crum, Reporter
My name is Delaney Crum, and this is my first year being a staff member of the Spartan Scoop.  When I asked my mom about how I should introduce myself...