Tessa's Senior Will
I, Tessa Macklin, being of indecisive mind and miniscule body, do hereby bequeath the following items:
To my beagle, I offer my tears and hugs, but no more Valentine's Day dark chocolate bars — sorry puppy. I give you long walks with friends during lockdown, many treats, countless cuddles on the couch, and mouth fulls of fur.
To my boyfriend's cat, I give the pleasure of many pats, playful bites, foot swiping, incessant yowling, and the gratitude of temporarily satisfying my desire for a cute, furry, feline friend — however ornery you may be.
To my friend group, I give my rants, infectious laughter, quirky noises, childish voices, lowest moments, carefree evenings, and grugs. I leave them our female anatomy inspired conversations, bear anatomy fueled comments, dozens of lunches, dances, and steady friendship.
To my government teacher, I give my notorious, sassy one-liners that spark laughter, many nights of emotionless typing, a fall full of frustration, a reality TV show that was more reality than scripted, passionate Kahoot battles, loud pictionary matches, and the "infamous week," particularly "bad Wednesday."
To my boyfriend, I give my best times and my worst times. My love and affection (baby did I mention, you're the only guy for me, no I don't need a next one), my giggles, my TV, movie and food education, accompanied shopping sprees, walks by the river, my inability to make decisions on where to eat or what to watch, my introduction to Montana lakes, kayaking, tickle fights, encouragement, support, tears, and my overthinking mind.
To my bedroom, I leave every emotion I have ever felt, the bubbling animosity, the overflowing joy, the crippling sadness, the valleys of depression, the gripping anxiety, the thrill of a new book, the passive numbness, and the bitter sickness. I give it hours upon hours upon hours of endless homework, sleepless nights, messy scrapbooking, many passionately penned letters, countless outfits that were tried on but never worn. Comfort.
To my grandparents' log cabin in the woods, I give all my fondest childhood memories, love and loss, the glee of catching a fish, the fear of the creatures that reside in the woods, the ignition of my enjoyment of exploration, my fuzzy, strong, magnificent horse pals, my first chapter book, miner's lettuce, the Two Sisters' Restaurant, my cozy cot, buttery biscuits, rabbit shaped Snoqualmie Falls pancakes cooked in a cast iron skillet, and the gravel road where I first rode a bike.
To my bookshelves, I give my wonder, my escape from reality, my love, my procrastination, my money, and my time. And dozens of unread books perched on your wooden shelves.
To my school, I give both eagerness to learn and the last ounces of my discipline. The frustration of the bathrooms being locked and the location where many friendships sprouted and flourished and also withered away.
About the Contributor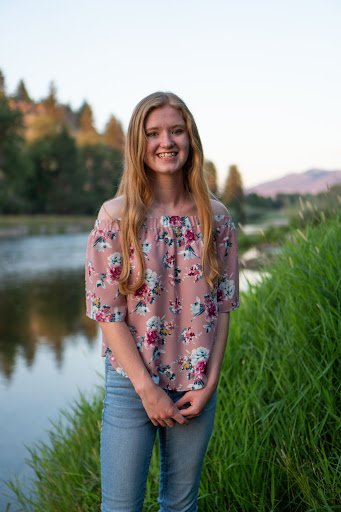 Tessa Macklin, Editor
Tessa is a senior this year and is an enthusiastic member of the band program at Sentinel. She plays the flute, and she also enjoys reading books for fun...