The Last Dance – Sentinel Cross Country
The '21-'22 Cross Country season just ended and the Spartans have once again ended victoriously.  Led by head coach, Diego Hammet, Cross Country recently placed high in the state meet.  At the University of Montana's golf course, the Sentinel Boy's Cross Country team placed second and the Girl's Cross Country team placed tenth in the AA conference.  This year, they say goodbye to beloved seniors who have had a significant impact on the team this season including runners, Tanner Klumph, Chase Green, Brooke Stayner, and Riley Crews.
The Boys' Cross Country team has two main rivals when thinking of Cross Country.  Hellgate is Sentinel's rival in a lot of sports, so it would only be fitting that the Hellgate Boys' Cross Country team is a primary rival. But, surprisingly, the other team's rival isn't Big Sky.  Sentinel's second rival in Cross Country is Bozeman.  Last year, the boys' team won first, thus breaking Bozeman's 12-year winning streak. The rivalry was potent.  This year, for the boys' team, Hellgate got the best of them and took first overall, but shockingly, Bozeman took fourth.  In terms of individual races, Sentinel's Tanner Klumph took first place with a fifteen-minute, fifty-seven-second time.  Another senior favorite, Chase Green, took seventh place for Sentinel and has since committed to Utah State for their sports programs. Congratulations Chase Green!  Directly following that time, Keagen Crosby placed eighth as a junior and set the tone for the '22-'23 Cross Country season.
In comparison to the boys' season, the girl's season wasn't as promising in terms of rankings, but they still need to be recognized for all of the work they put into the season.  Leading the girl's team, Brooke Stayner took fiftieth place.  Riley Crews, another promising senior, placed fifty-fourth.  The highest-ranking Spartan in the women's AA state meet was junior Malia Bradford who placed tenth, thus showing another promising leader for the 22′-23′ girl's Cross Country season.
As per Spartan sports tradition, they dominated the meet.  The boys' team had a great season and the seniors had a phenomenal last "dance" and secured top spots in individual races.  Overall, the team had a very successful season that every athlete should feel accomplished for completing. Even though they're saying "goodbye" to their seniors, the team is in good hands with current juniors that are already stepping up in their then-current season.  Until next season, the Sentinel Cross Country team is signing off.
About the Contributor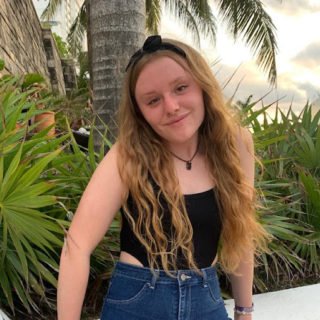 Delaney Crum, Reporter
My name is Delaney Crum, and this is my first year being a staff member of the Spartan Scoop.  When I asked my mom about how I should introduce myself...