Preview Article: Varsity Cheerleading Coach Interview
Homecoming is just around the corner and it isn't just the football team that are working their butts off for that performance.  The Sentinel Spirit Squad, which includes the Cheerleading and Dance Team, are rushing to put together a performance with the Sentinel Bands for the first homecoming halftime show in over a year.  We caught up with cheerleading coaches Kaley Brouwers and Emilee Royce, to ask them some questions regarding their coaching styles, the upcoming performance, and their team.
How would you describe your coaching style(s)?
"I coach with an emphasis on strong technique and preparation for collegiate level cheerleading.  We start practice with a dynamic warm-up, followed by material review, and new skills.  My goal each week is for the team to gain a new skill we can showcase or compete with later in our season." Kaley Brouwers (Head Coach for Sentinel Cheerleading)
"I love to get the team's input on what they feel needs to be worked on and what they would like to be doing as far as dances and stunts go.  But, I also like to have a set plan of what needs to be accomplished.  I like to step in and help with a stunt, if needed, to figure out where an issue may lie."  Emilee Royce (Assistant Coach for Sentinel Cheerleading)
What skills/qualifications do you possess that make you so successful as a coach?
"I started coaching cheer seven years ago.  I absolutely love coaching, so I'm always looking up new skills to teach the team.  I cheered for twelve years on both all-star and sideline cheer teams, so I have a vast knowledge of the sport from the athlete's perspective, as well." Kaley Brouwers

"My qualifications for cheerleading include being a Big Sky High School Cheerleader, Carroll College Cheerleader, extensive gymnastics background, Former Recreational Cheer and Gymnastics coach for Helena Athletic Club, and Mismo Gymnastics." Emilee Royce
How would you describe the team's culture?
"This year's team is awesome!  They work so well together and all of them are so motivated, every practice, to be better or learn new skills.  I love it!" Kaley Brouwers

"Sentinel Cheer is big on teamwork, respect, accountability, and hard work.  We love to have fun, but we are also focused on getting the job at hand done!" Emilee Royce

Additional comments about the upcoming performance, together, as the Spirit Squad
"This season we're excited to collaborate with the dance team for our homecoming performance.  We have so much talent on both squads, so it will be fun getting to put everyone's skills together." Kaley Brouwers
With homecoming steadily approaching, the Sentinel Spirit Squad is quickly coming together for a joint field performance with the Sentinel Marching Band.  Due to COVID-19, there haven't been many performances on the field as a team, nevertheless as a Spirit Squad, so these two teams are putting together a conjoined performance per homecoming tradition.  The Sentinel Marching Band will be spending various hours as well, some with the Spirit Squad, to make the best performance possible to maybe bring us back to the reality of a normal school year of sports.
About the Contributor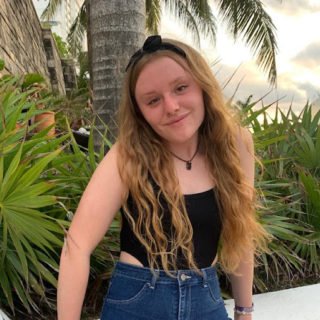 Delaney Crum, Reporter
My name is Delaney Crum, and this is my first year being a staff member of the Spartan Scoop.  When I asked my mom about how I should introduce myself...